PC MONITOR RESOLUTION AND DISPLAY SETTINGS
Out of the box all PC's are factory preset to a screen resolution of 800 x 600, Not only are the graphic images distorted thru incorrect interpolation via pixelation but it also takes away massive amounts of desktop space and work areas. To correct this, and view the web as it's viewed best do yourself a favor and change your display resolution.
Changing your display's resolution is a simple way to get the most out of your computer system. Older pc's came shipped with a 640 X 480 display resolution out of the box. PC's made over the passed few years have been shipped using the 800 X 600 display resolution. Now, in the present, we are finding the 1680 x 1050 becoming more common among users and in new mac's and pc's being shipped.
The 1680 x 1050 resolution allows you to view more of a web page, program or document on your monitor, no matter what size your monitor is. This is a great way for smaller monitors to utilize space.
To change your settings (PC), follow the instructions below:
Left-click on the Start button, point to Settings, click (left mouse button) Control Panel. Then double-click (left mouse button) Display, and finally click (left mouse button) the Settings tab. If after clicking the Start button, you don't see 'Setting', simply right-click on your desktop and click on 'Properties' in the menu that appears. Click the 'Settings' tab once the 'Display Properties' box is shown.
You will see 'screen area' with a slide bar underneath.
If it says 1024 x 768 pixels, you already have the correct resolution set. Click the Cancel Button (left mouse button).
Otherwise, left click and hold on the slide bar indicator and drag it until the Screen Resolution bar reads '1680 x 1050' then release the mouse button
Click the OKAY button and accept any further prompts (You may possibly be asked to reboot your PC, but not usually) enjoy!
NEED ART?
---
FULL SERVICE FREELANCE ART STUDIO • FINE ART
---
77 GARFIELD AVENUE, SAYVILLE, LONG ISLAND NEW YORK 11782 • (631) 567-0919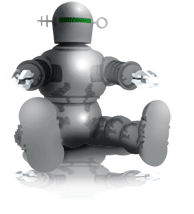 ALL RIGHTS RESERVED, NOT TO BE REPRODUCED WITHOUT PERMISSION © 2008 ZIG STUDIOS